Nyaa Torrents
The Nyaa saga - a revival with a new index and some copycats
Nyaa is a popular anime-dedicated torrent index. Nyaa is best known for anime and also hosts a number of manga books, games, audio and live action that can be downloaded from the torrent index.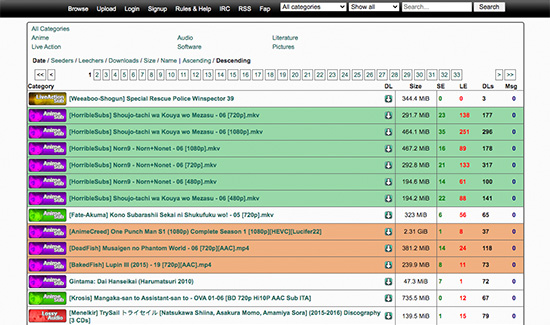 Nyaa torrent site Nyaa.se just before it went down in 2017
What does NYAA stands for?
In short: nyaa is weeb for a cat's meow.
What happened to the Nyaa tracker?
The torrent site was taken down by various DDoS attacks in 2014. At these times almost every famous anime (torrent) site got DDoS attacks. Since Nyaa was the most popular target, anime sites like HorribleSubs, Tokyo Toshokan and AnimeTake were attacked and suffered downtime.
In May 2017 the site's main domains (nyaa.se, nyaa.eu, nyaa.org and nyaatorrents.info) were deactivated. In an announcement of Nyaa's previous mods, the reasons for the website's shutdown remained unknown. However, they were believed to be based on EU judgments that would jeopardize the proper functioning of Nyaa as it was then. In the following weeks, several forks were launched, some of which were based on the Nyaa Torrents codebase and the original torrent index. Every alternative project used the name nyaa: Nyaa Pantsu, Nyaa.se, Nyaa2 and Nyaa.rip.
Unblocked alternative with Nyaa proxies
Just as the original Nyaa Torrents had problems because its torrent site was blocked in countries around the world, the successors' sites where blocked as well. However, there were enough proxy pages that made it possible to access the Nyaa pages. Here is a list of working Nyaa proxies for all popular Nyaa alternatives.
| Proxy | Name | Replacement | Status |
| --- | --- | --- | --- |
| https://nyaa.iss.ink | Nyaa ISS | Nyaa Pantsu (nyaa.si) | online |
| https://nyaa.iss.one | Nyaa ISS | Nyaa Pantsu (nyaa.si) | online |
| hhttps://fap.iss.one | Nyaa Sukebei (fap) | Nyaa Sukebei (fap.iss.one) | online |
| https://nyaa.unblockit.day | Nyaa Unblockit | Nyaa Si (nyaa.si) | offline |
| https://nyaa.unblocknow.surf | Nyaa Unblocknow | Nyaa Pantsu (nyaa.si) | online |
| https://nyaa.unblockproject.top | Nyaa Unblockproject | Nyaa Pantsu (nyaa.si) | online |
| https://nyaa.123unblock.world | Nyaa 123unblock | Nyaa Pantsu (nyaa.si) | online |
Proxy
An updated Nyaa torrent proxy list can be found on Torrends (a torrent site proxy index).
Nyaa replacements for anime fans
Nyaa.si – A community driven torrent index
Shortly after the end of Nyaa.se a replacement has been made with fansubbers like HorribleSubs uploading their stuff to it. HorribleSubs is a fansub group translating, timing, encoding and editing it's anime shows. The replacement domain is nyaa.si. The alternative Nyaa torrent indexer is build with Python, MySQL/MariaDB and Elasticsearch and its code base NyaaV2 published on GitHub.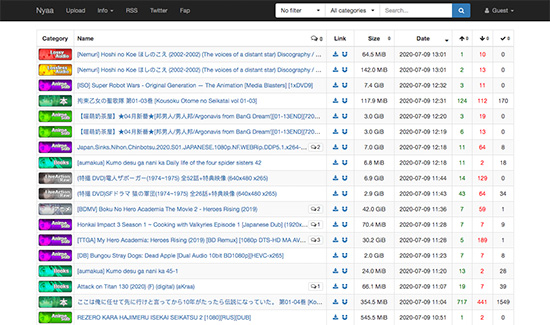 Nyaa Si is the most popular successor
Nyaa.si is currently one of the most successful replacements to the defunct Nyaa.se/Nyaa.eu website. There was no 'official' replacement, both Nyaa.si and another site named Nyaa Pantsu (nyaa.net) were 'unofficial'.
Nyaa Pantsu
No point using pantsu as that site is basically a mirror of the site Nyaa.si
Alternative anime torrent sites
Nyaa is one of the largest anime torrent index but smaller alternatives or sites with an anime collection exist. Here are some examples of more anime torrent collections:
Anime Sharing – A community forum with torrent section
http://www.anime-sharing.com/forum/torrents-47/
1337x – torrent index with large collection of anime titles
https://1337x.to/popular-anime
Anime Layer – Russian speaking torrent site
http://animelayer.ru
Anime Tosho – another popular anime download site that exist for 10 years
https://animetosho.org